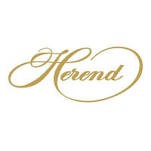 Herend UAE
For close to 200 years, the Herend Porcelain Manufactory has impressed the world with its handmade and hand-painted porcelain creations. Its signature patterns and attention to detail set the brand apart.
Founded in Hungary, in 1826, Herend has grown to become the largest producer of handmade porcelain in the world. The Hungarian manufactory produces coffee and tea services and all kinds of dinnerware and trays, with touches of gold and platinum. It is also renowned for its prize-winning masterpieces. Some of its vases can reach a height of more than two metres.
Made famous by Queen Victoria, Herend's products have been owned by numerous royal families and heads of States worldwide, such as the the emperor of Japan and the sultan of Oman.
Al Mazroui Group has reached out to partner with Herend Porcelain Manufactory, creating Herend UAE. The Abu Dhabi-based company is able to cater to the demand for premium porcelain tableware and home décor products, in the UAE and the Gulf region.
our branches